Before I start:

May I know who SMS-ed me 5 hours ago? I suppose it's Kira? Demo the new DUET = July = NiKame, no?

Okay, serious business now. I'm not gonna cut anything because I wann spam f-lists so bad. =)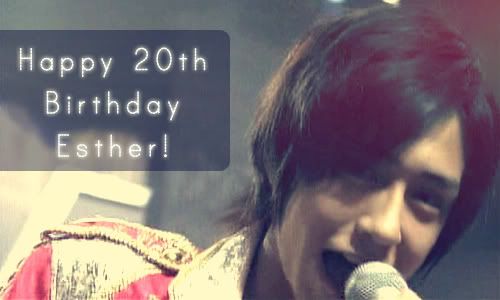 OMEDETOU! Though you can no longer use TEENAGERS related excuses but still, OMEDETOU~ =DD And I dunno what else to say! LOLOL.

Edits: I went to MISE* today and they are farkin closed I wonder why. So no Chibi Yabu. XD

Now for the trans.
WINK UP 2007.JUNE Q&A Section - Qns for NIKAIDO TAKASHI:

Q: I always see Nika's smile, do you have times when you are angry? I am one who gets angered easily, do you have tips about keeping smiles on?

Nika's Ans: I do get angry at times too, but I get over them easily. Honestly, I do have times where I force myself to smile (Laughs). But if you smile, your mood gets brightened up right? And sometimes it depends on the environment you're in.


AND THE TRUTH ABOUT NIKA LEARNING THE TRUMPET! LETS RECALL WHAT HE ONCE SAID!

WINK UP 2004/5 JULY - Nika Birthday Section:

Nika: When I reach the age of 15 I'll discover new things right? But for this year... ... I've yet to discover anything (Laughs). What I want to discover/try when I'm 15? Oh, I wanna try acting. Like the character Yamashita-kun played in Dragon Zakura. Or Kinpachi Sensei, especially because it fits my age, so I'll really like to try acting. But I guess I'm not good at memorising lines. If there's ever a need for advice in acting, I hope to get it from Kamenashi-kun. If I ever act in my life, Kamenashi-kun, yoroshiku!

Now for the icons. Lol. Yes yes shuttup but I made 30 icons out of the June 10th SC. Most are plain though, since you know I'm bad at adding text. I dunno if anyone wants it but I just wanna post.
Though, if somehow someone uses them, please do proper credits because it's being polite. Thanks.
Icons are in jpeg format, convert yourself prz. =)

Includes; ABC, Kisumai, Question?, JBC, CY, JJE, Ueda, Dream Bombers.
If you're wondering who's JBC. JBC = Jailbait Crew. =) And there's lotsa CY cuz Yui loves him.
| | | |
| --- | --- | --- |
| 1 | 2 | 3 |
| | | |
| 4 | 5 | 6 |
| | | |
| 7 | 8 | 9 |
| | | |
| 10 | 11 | 12 |
| | | |
| 13 | 14 | 15 |
| | | |
| 16 | 17 | 18 |
| | | |
| 19 | 20 | 21 |
| | | |
| 22 | 23 | 24 |
| | | |
| 25 | 26 | 27 |
| | | |
| 28 | 29 | 30 |
| | | |

Jaa bai. ^^